E100 – Real Mom Moments – 100th Episode Celebration recorded Live on Location! | Parent Talk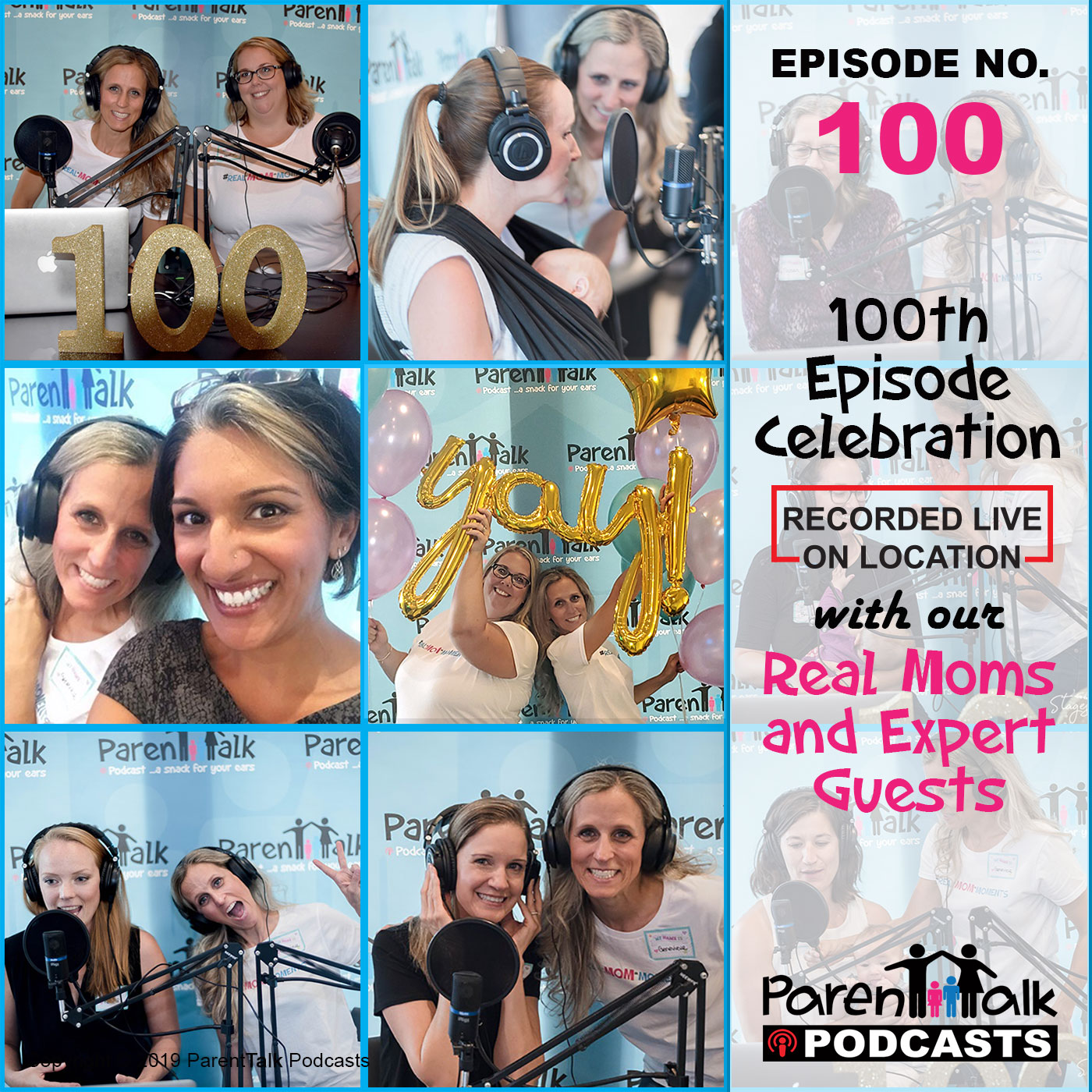 Click the arrow below to listen. (10 second delay) (37:00)
Never miss an episode of Parent Talk Podcasts
Enter you info below and click subscribe.
Episode: E100 Real Mom Moments – 100th Episode Celebration recorded Live on Location! 
Guest(s):  Past and future guests and experts!
Today on ParentTalk, Geneviève and Heather are thrilled to be celebrating their 100th Episode!! To celebrate, they've gathered past and future guests and experts from the podcast along with a bunch of local moms and their little ones for a super fun social lunch. This episode was recorded live on location during the celebration!!
Hear all the excitement as we talk about the absolutely fantastic Swag Bags the Moms were gifted and how you, our listeners, will have the chance every month to be our "V. I. M." (Very Important Mom) and WIN an amazing Prize Pack of your very own!! 
Our first "V. I. M." was awarded to our wonderful friend and supporter Cheryl Dushop! 
The episode is topped off with Geneviève, Heather, and many of the party guests sharing their own # Real Mom Moments! So much fun, you won't want to miss!! 
A huge Thank You to all the attending Experts: 
From Parenting Littles, Parenting and Financial Consultant, Cherrie Tam

From Look with Love, Parenting Consultant, Bridgett Miller 

From Bright Star Counselling, Social Worker and Psychotherapist, Sonja Latifpour

From Getting It Together, Professional Organizer, Rowena List

From Safe Beginnings, First Aid Instructor and Car Seat Technician, Holly Choi

From Leapfrog Gymnastics, Owner and Head Coach, Sara Markel Kerrigan 

From Stages Doula & Photography, Candice Tizzard

From Crowning Glory Birth, Birth Doula, Michelle Tyliakos

From Breathing Space Counselling, Registered Therapeutic Counsellor, Nasreen Gulamhusien.

From Live it Well Nutrition, Registered Holistic Nutritionist, Katie Reitsma

From Mama Bear Holistic Care, Registered Nurse, Agnes Mayer

From the Tooth Bus Pria Dhaliwal.
Many of these wonderful ladies donated to the Swag Bags and Door Prizes as well as the Monthly "V.I.M." Giveaways! 
We'd also like to thank the following ladies for their generous contributions! 
Lori Mork, Best Selling Author, Wellness Coach.

Deborah MacNamara, Clinical Counsellor at Kid's Best Bet, Author of Best Seller Rest, Play, Grow, Educator & on Faculty at Neufeuld Institute. 

Jennine Lewis with Lani Lou Baby Boutique and Shelby & Jun

Dr. Sarah Wulkan, Naturopathic Practitioner.

Jennifer Kolbuc with Mountain Top Consulting 

Ina Fung with Epicure

Heather Beckley with Norwex

Meridith Dawson with DoTerra

Corrine Underwood, Sexual Health Educator • Danielle Wong with Silver Icing 

Anna Maria Marando with Mary Kay

Lara McTavish with Runners and Booties Fitness 
We will be celebrating our 100th episode all week and will be sharing many beautiful moments with you.  So please stay turned on our social media to view the images. 
Here's to One Hundred Episodes! Our 3rd season has begun and we're so grateful to all of you as we couldn't have done it alone. 
Happy Listening!
Geneviève & Heather